A home theater projector is one of the best and easiest ways of getting as close to a big-screen movie theater experience as possible. There are great projectors for sports, gaming, movies, and TV shows that can throw images bigger than 100 inches, and some have decent sound, too.
But choosing the best home theater projector can be a little tricky. Options and features such as lamp type and lumens of brightness, maximum image size, and features like Dolby Atmos sound can make your head spin. Some projectors do better in darker rooms and some are great in bright rooms, while ultra short throw projectors are becoming more and more common and allow you to maximize space in small rooms by placing them mere inches from the wall or screen.
For our money, one of the best projectors you can buy right now is the Hisense PX1-Pro Laser Cinema. Not only is it slick looking, but it's easy to set up in even small rooms because of its ultra short-throw design, has a bright color-accurate image, supports Dolby Atmos sound, and runs on the Android TV platform for access to all kinds of streaming services.
But if you're just getting started in your hunt for the projector that's right for you, we've also pulled together some other great options for you that range in price, features, portability, and uses from gaming to backyard movie nights.
Hisense PX1-PRO TriChroma Laser Cinema
Best overall projector
Pros
Excellent short-throw design
Great color coverage
eARC support
Dolby Atmos support
Android TV platform
Cons
Not as useful if you don't use Google apps
This slim and stylish-looking home theater projector uses Hisense's TriChroma engine to produce amazingly accurate colors, covering the full range of the BT.2020 color gamut with its RGB lasers. That makes it a great pick for those who are used to a vivid image and don't want to give up any color accuracy on a projector. With peak brightness that can reach 2,200 lumens, this 4K (3840 x 2160) projector can cast an image from 90 to 130 inches in size, and supports Dolby Vision and HDR 10 and HLG for rich contrast, too. The useful ultra short throw designation of this projector also means that it can sit as close as 0.9 feet away from your screen or panel, allowing for versatility in placement.
The model also comes with HDMI eARC, which we love to see for easy setup and speaker passthrough without losing any audio quality or image optimization that your content may support. Dolby Atmos compatibility is also built-in for audio improvements, a feature many projectors miss out on.
The Hisense PX1-PRO Laser Cinema runs on the Android TV platform, which means you can install apps from the Google Play store, including all the streaming services you need (Netflix, YouTube TV, Amazon Prime and more), and Chromecast capabilities allows you to cast content from a variety of devices.
Hisense's projector also comes with a few different modes to help out certain activities, including a gaming mode that enables automatic low latency, and a filmmaker mode that disables motion processing so you get the most authentic projection images possible. Hisense has been quite innovative in the laser projection arena over the years and continues to innovate, announcing some new laser projectors at CES 2023, debuting some small projectors capable of throwing images upwards of 150 inches.
Hisense PX1-PRO TriChroma Laser Cinema
Best overall projector
Samsung The Premiere LSP7T 4K laser projector
Best 4K projector
Pros
Alexa, Google Assistant, and Bixby
Compact, ultra short-throw design
30-watt speakers and subwoofer built in
Up to 120-inch image
Smart TV capabilities via Tizen OS
Samsung's The Premiere ultra-short-throw (UST) laser projectors (they come in 120- and 130-inch variants) are a great way to turn your living room into a high-end home theater. Here we're going to focus on the 120-inch LSP7T model, mostly because it's more than enough image size for most people, and it's $3,000 cheaper. So here we go.
The Premiere LSP7T offers a beautiful 4K (3840 x 2160) resolution in sizes from 90 to 120 inches, and the UST design means you can place it only inches away (9.7 inches for a 90-inch screen to 16 inches for 120) from the wall or screen and still get excellent results. It also supports HDR10+ for good levels of color and contrast, and with 2,200 lumens it's bright enough for even the brightest of rooms.
It comes ready for the modern smart home thanks to Samsung's Tizen OS platform, giving you access to all the streaming services you need (Netflix, Amazon Prime Video, Apple TV, Hulu, Disney+, and more), as well as support for Alexa, Google Assistant, and Bixby voice assistants allowing you to give voice commands to control playback, search for shows, or operate other smart devices in your home.
Like some of our other picks, the Samsung LSP7T Premiere also includes a filmmaker mode for authentic projection. And while all projectors benefit from external speakers, this model's 30-watt 2.2-channel speakers and subwoofer can do a fine job on their own — and give you the freedom to take the LSP7T Premiere anywhere.
Samsung The Premiere LSP7T 4K laser projector
Best 4K projector
LG CineBeam HU715QW 4K UST Laser Projector
Best ultra short throw 4K projector
Pros
Dolby Atmos sound
HDR10 support
LG's ThinQ smart device platform
Bluetooth, AirPlay, Wi-Fi connectivity
Cons
Not very portable
Built-in speakers are a bit lacking
We know, there are already a couple of other ultra short throw projectors on this list, but as we mentioned earlier, these versatile projectors are fast becoming the best option in a wide range of room sizes. The LG CineBeam HU715QW ticks several boxes in the UST category — a beautiful 80-inch image is possible from just placing the projector 4.65 inches from the wall, but it can also size up to a whopping 120 inches (at 12.48 inches away) of super-bright 2,500-lumens projection, putting it on par with our top two picks on this list, but for a more reasonable price (currently under $2,000).
The CineBeam HU715QW is a laser projector with a light source that's specced out to last for up to 20,000 hours. It offers impressive 4K UHD (3840 x 2160) resolution across 86% of the DCI-P3 color gamut, and HDR10 and HLG support means this projector will do a good job handling a lot of HDR content with accurate color and dynamic contrast.
Like LG's popular TVs, the HU715QW projector runs webOS 6, LG's smart TV operating system, which opens the door to all the streaming services you know and love, plus a ton of connectivity options like 3 HDMI inputs (one 2.1 and two 2.0 inputs) with eARC support, SPDIF optical, USB A, Bluetooth, and AirPlay.
On the sound front, things aren't great but good enough to get started, with a 20-watt 2-way stereo speaker built in behind the HU715QW's gray fabric front face. You can always add a soundbar later), or even one of LG's new wireless soundbars to up your home theater game with this fine UST projector.
LG CineBeam HU715QW 4K UST Laser Projector
Best ultra short throw 4K projector
BenQ HT2050A 1080p DLP home theater projector
Best budget projector
Pros
Big image for an affordable price
Vertical lens and keystone adjustment
Bright 2,200 ANSI lumens
Easy to set up out of the box
Cons
10-watt speaker sound is weak
Noisy fan
No HDMI 2.0
BenQ is a reliable name in the projector world for its reasonably priced products, and the BenQ HT2050A home theater projector fits that bill perfectly. It's a 1080p DLP projector with an impressive 2,200 lumens (in Vivid mode) light source that is more than adequate for anything you want to throw up on the wall or screen, and it's bright enough for a light-filled living room.
Its color is bright and vivid, and its CinematicColor gamut covers 96% Rec.709 color space, which BenQ says delivers images true to the original visions of the industry's leading directors.
The HT2050A features what BenQ calls Vertical Lens Shift and 2D keystone adjustment so you can easily adjust the projection to get a perfectly proportioned image on your screen or wall no matter what angle the projector is on. The projector will throw a range of image sizes depending on the distance from the wall you move the projector — 8.4 to 10.9 feet yields a 100-inch image while 12.5 to 16.3 feet can yield up to a 150-inch image. BenQ has a helpful distance calculator you can use, too.
Not that you'd expect great sound from a budget projector, but be that as it may the BenQ HT2050A has a 10-watt "chambered" speaker built in, which is adequate, but you could do better with a soundbar or a set of powered speakers.
A range of inputs litters the back of the projector, including two HDMI ports, USB-A and USB mini-B inputs, plus component and audio in RCA ports, allowing you to connect everything from DVD players and streamig devices to smartphones and more, all for under $800.
BenQ HT2050A 1080p DLP home theater projector
Best budget projector
Samsung The Freestyle
Best portable projector
Pros
Lightweight and portable
Automatic screen adjustments
Runs on Tizen OS for access to apps
Bixby and Alexa voice assistant capable
Cons
550 lumens of brightness is a bit low
It's only 1080p
Samsung's popular Freestyle portable projector is cute as hell, easy to set up and use, and reasonably priced for what you get. First, it's super portable at just 4 by 6.8 by 3.7 inches (WxHxW with stand) and just 1.8 pounds. Its 550 lumens of brightness (low compared to everything else on our list) can project a clear, well-defined 1080p resolution image ranging in size from 30 inches (at just 2.6 feet away) to 100 inches in size (at 8.8 feet).
While you could set the Freestyle up somewhere are be done with it, the fun with this thing is that it goes anywhere and can be used on pretty much any surface. Its 180-degree swivel stand lets you easily cast an image over Bluetooth or Wi-Fi from a device on walls and screens or tilt it straight up for a ceiling movie night in bed. With Samsung's SmartThings app, a bunch of customization options and features open up, including brightness and color settings, and one of the best features we've seen on a projector: a smart calibration tool that will analyze the color of a wall you're projecting on, and the lighting conditions in the room, to adjust the image accordingly. It even comes with a remote.
The Freestyle uses Samsung's Tizen operating system, like the company's TVs, which means you'll have access to Samsung apps as well as streaming service app from Hulu to Netflix to Disney+ and more. Some clever screen mirroring and sharing features allow users to do things like mirror whatever's on a compatible TV to a second image from the Freestyle (think double Super Bowl TVs). There's also Bixby and Alexa voice assistant compatibility so you can boss the projector around with your voice.
A 360-degree speaker sounds pretty good for a built-in and supports Dolby Digital Plus. The Freestyle also has Bluetooth audio connectivity for listening with headphones if you don't want to disturb others.
Cool accessories, including a lens cap attachment that turns the Freestyle into a night light, and a light socket adapter that lets you screw the whole projector into a lamp light socket if you wanted to be able to swivel or easily move and point the projector in more specific places.
Connectivity options on The Freestyle include Wi-Fi, one HDMI input with eARC, and a micro HDMI input.
Samsung The Freestyle
Best portable projector
Sony VPL-XW5000ES
Best premium projector
Pros
Advanced 4K technology
Excellent DCI-P3 coverage
Sony's X1 chip offers many advantages
Cons
Lumen levels are a little low for bright rooms
Technically, you can spend as much as you want on a home projector. If you're building your own home theater room from the ground up, you could drop $28,000 on, say, the Sony VPL-XW7000ES to bring the movie theater experience directly to your house. But come on: That price is way beyond most interested buyers, even those with higher budgets. Fortunately, there's a far more affordable (albeit still expensive) mode available, the Sony VPL-XW5000ES.
This projector's specialty is stunning color and accuracy, aided by the 4K SXRD panel, and Sony's powerful X1 chip to manage all the details. The laser light source can reach up to 2,000 lumens (a bit more suited for authentic dark room viewing, but still plenty bright), and the "Triluminos Pro" software works with over a billion colors to set the right shades and reach 95% of the cinematic DCI-P3 color gamut – pretty good for an at-home projector!
HDR support is joined by object-based technology to sharpen any important subjects in a scene, and gamers will appreciate the built-in lag reduction along with connections that support up to 120Hz refresh rates. While all this advanced tech comes at a price much higher than our other picks, it's also one of the best ways to guarantee an astounding, theater-like experience in your own home.
Sony VPL-XW5000ES
Best premium projector
Xgimi Horizon Pro
Best portable 4K projector
Pros
Compact and lightweight
4K UHD image
Super-bright 2,200 lumens
Harman Kardon speakers
Android TV
Cons
A bit pricey
Dark colors suffer from all those lumens
The Xgimi Horizon Pro is one hell of a projector, period. Aside from it being portable, easy to set up, and packed with features, the Horizon Pro pumps out a beautiful 4K image and competes with the higher-end picks on our list in the brightness category with an impressive 2,200 ANSI lumens.
At just 3.5 pounds and reasonably compact at just 8.2 by 8.6 by 5.3 inches, the Horizon Pro can go pretty much anywhere and gets up and running fast with its Android TV operating system that gives you access to all the streaming service you need baked in — no need to connect up a streaming box or clumsily mirroring a phone to do it. With that said, it also has two HDMI inputs (one eARC), two USB ports, and if you did want to mirror a device, it has Chromecast and Airscreen built in. Google Assistant is accessed through the remote, too, and the whole unit can be mounted on a tripod.
On the picture front, we already mentioned its brightness, which is great for rooms with windows, sure, but the Horizon Pro will throw a 4K UHD image from 40-inches to a whopping 200 inches, with support for HDR10 and HLG HDR. Auto focus and auto keystone correction add to the simplicity making it a piece of cake dropping it on a table and projecting it to a wall or screen, even at awkward angles. Object avoidance will also automatically adjust the image size to avoid hanging art or wall lights.
Two 8-watt Harmon Kardon speakers are also packed in there should you not have access to a soundbar, and with DTS HD and Dolby Audio the Horizon Pro will also create virtualized surround sound, too. It's still probably best to use your own external soundbar, but the built-in audio is pretty good if you're on the go.
Bluetooth 5 and 2.4/5GHz Wi-Fi connectivity round out the features, and gamers will even be down with the Horizon Pro's gaming mode, which delivers a low 35ms latency, which might not cut it for hardcore gamers but will be good for most.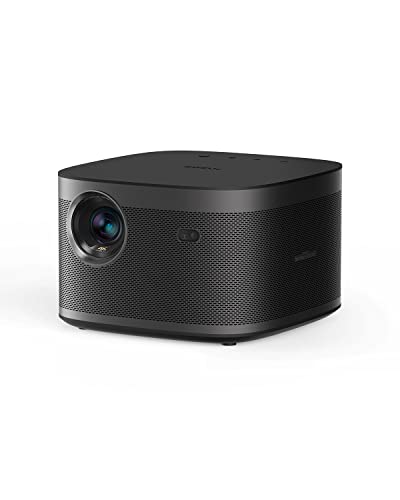 Xgimi Horizon Pro
Best portable 4K projector
Frequently Asked Questions
How you should pick a projector?
Even when picking an entry-level projector, there are a few basic things to keep in mind. The most important is the projector's brightness capability. Simply put, the higher the number of lumens, the brighter the image. The more ambient light you have in the room when you watch, the more brightness you'll want to combat it.
You'll also want to consider the projector's throw ratio, which explains how wide a projector's image will be given the distance between the lens and the screen. Also, be sure the projector you pick offers enough keystone correction and zoom ability to match your installation.
Sound complicated? It's not as hard as you might think. (And for that matter, neither is setting up a home theater projector.
Finally, you've got to think about sound: You can count on nearly any projector's built-in speakers to be terrible. They are an afterthought in most cases, designed to get you by if you're doing an office presentation, but not much more. Any projector will benefit from even a modest outboard speaker system, such as a soundbar, though for big movie nights, we say go nuts with the sound system.
Will a projector work with my devices?
Home projector inputs are designed to be similar to TVs, but you should always check before you purchase. Usually, you won't have any compatibility problems, although you may need to rearrange some of your home entertainment equipment. Many projectors even have the same platforms that smart TVs use for easy streaming.
Does a projector need a screen?
It's highly recommended. A dedicated projector screen is the only way you'll get a sharp image with good color accuracy. But it isn't required for casual viewing — a solid, clean, white wall can be adequate enough for some applications.
How bright should a projector be?
Home projectors typically need a certain number of lumens to perform well, especially since they may be used in central rooms with windows or rooms with lights on. Most of our picks are around 2,000 lumens or higher.
How far away from the screen does a projector need to be?
It depends on the projector, and each projector will have specific instructions for the best results. Generally, you're looking at around 10 feet away for a traditional projector. But there are also "short throw" projectors that can work from only several feet away, and ultra short throw projectors, which can work from several inches away, which is useful in home theaters that don't have a lot of room to spare.
What color of screen works best for a home projector?
When you're ready to pick a projector screen, you'll quickly notice they come in a variety of colors, like white, silver, gray, and black. Which works best for you? That depends. Lighter screens tend to have better color accuracy and do well in low-light conditions and in dedicated home theaters. Darker screens tend to have better contrast and do better in brighter rooms with ambient light. The brighter the projector, the less you'll have to worry about screen color.
What is keystone correction and do I need it?
Keystone correction features automatically sense if the angle of the projector isn't right, which would make the image tilted or otherwise distorted. It then tries to correct the image so that it appears flat.
Permanently placed home projectors shouldn't have much need for automatic keystone correction, since they should be set up and angled properly, both horizontally and vertically. Manual keystone correction may take some tweaking to get right, but then you don't have to worry about it again. Portable projectors get more use out of automatic correction features.
Can projectors overheat?
Projectors use fans, vents, and heat dissipation to stay cool, and it's usually very effective, especially with LED bulbs that don't produce much heat. If a projector is overheating, that's a sign something is wrong, like blocked vents or a broken fan.
Can I use a home projector in the backyard?
Our projectors on this list – except for our portable pick, are generally designed to be carefully tuned and left in place. But don't worry. We also offer another guide to the best outdoor projectors.
Additionally, we also have more detailed run-downs for you on the best portable projectors and the best 4K projectors.
Editors' Recommendations