You don't need to build your own computer to get the best gaming PC. While that still provides the best value, brands like Lenovo, Alienware, Acer, and Origin have gotten fiercely competitive in the past few years, and these companies are producing some of the best gaming desktops you can buy.
Our top pick is Lenovo's Legion Tower 7i Gen 8. It comes with the latest CPU and GPU options for Intel and Nvidia, and it's reasonably priced, especially considering is excellent thermal management. Still, we have over half a dozen other picks for different budgets and gaming needs that we identified through our extensive collection of desktop reviews.
Lenovo Legion Tower 7i
The best gaming PC you can buy
Pros
Flagship 4K gaming performance
Support for DLSS 3
Fully upgradable
Sleek, attractive design
Cons
RAM runs at slower speed
McAfee continues to annoy
Why you should buy this: It's a reasonably priced gaming PC with flagship hardware, and it's fully open for upgrades.
Who it's for: PC gamers who want a high-end experience in 2023 and the possibility to upgrade in the future.
What we thought of the Lenovo Legion Tower 7i:
The Lenovo Legion Tower 7i is proof that buying a prebuilt gaming desktop doesn't have to mean sacrificing quality. It packs in Nvidia's RTX 4080 along with an Intel Core i7-13700KF processor, offering some of the fastest hardware you can buy today, and it performs as well as its spec sheet would suggest.
In our review, we found that the Lenovo Legion Tower 7i was a hair faster than a custom PC with the same components, so you're not leaving any performance on the table by going prebuilt. You're free to swap out components, too. Unlike desktops from Alienware and some other vendors, the Tower 7i uses standard-sized parts so you can swap out whatever you want.
That's all great, but the real reason we're recommending the Tower 7i is its price. The configuration we reviewed, which comes with an RTX 4080 and Intel Core i7-13700KF, runs $2,900. That's expensive, but it's only a few hundred dollars more than if you bought all the parts yourself and pieced them together on your own. And for that upcharge, you're getting a year of Lenovo's Legion Ultimate support, which includes next-business-day repair, as well as a 24/7 support contact.
Since our review, Lenovo has released some cheaper models as well. You can now get the machine for around $2,050 with an Intel Core i7-13700KF and RTX 4070 Ti GPU.
It's easy to recommend the Lenovo Legion Tower 7i in 2023, but it still has one problem. Lenovo advertised 5,200 megatransfer per second (MT/s) memory, but it's only set up to run at 4,400 MT/s out of the box. That can lead to lower performance in some select applications, but thankfully, you can crank up the memory speed in a couple of clicks.
Lenovo Legion Tower 7i
The best gaming PC you can buy
Origin Neuron
The best custom gaming PC
Pros
Excellent cable management and design
Minimal bloatware
Lifetime 24/7 support
Great CPU, GPU, and motherboard options
Easy to upgrade
Cons
Expensive
Few non-Corsair part options
Limited front panel ports
Why you should buy this: The Origin Neuron comes with excellent build quality and highly customizable components.
Who's it for: Gamers looking to customize their own PC without getting into building.
What we thought of the Origin Neuron:
There's no shortage of PC builders that use components you can buy and put together yourself, but Origin still manages to stand out. You can buy and build an exact replica of the Origin Neuron, but Origin's careful attention to detail, deep customization options, and excellent support make an argument not to.
Corsair owns Origin, so the Neuron comes fitted with Corsair components across the board. That's a good thing in this case, as Corsair makes some of the best PC fans, power supplies, and RAM modules you can buy. All of these first-party components give the Neuron a cohesive feel, free of software conflicts that could mess up your RGB lighting.
You can build the machine exactly how you want, too. Origin offers the latest CPUs from AMD and Intel, as well as the latest GPUs from Nvidia and AMD. Beyond that, you can tweak everything else — power supply rating, memory speed, you name it.
The Neuron is more expensive than a mainstream PC like the Omen 45L. That extra money buys you better build quality, more flexibility, and some modern furnishings. Out of all of the custom PC builds you can buy, the Origin Neuron is our favorite.
Origin Neuron
The best custom gaming PC
Alienware Aurora R15
The best gaming PC with water cooling
Pros
Massive configuration options
Cool and quiet operation
Up to an RTX 4090 GPU
Faster DDR5 memory options
Mostly tool-less servicing
Cons
Proprietary design limits upgrades
Overreaching software
Why you should buy this: It's a major improvement to Alienware's age-old design.
Who's it for: PC gamers who want a lot of flexibility in their build and don't need to service their PC.
What we thought of the Alienware Aurora R15:
Alienware makes great gaming desktops, but the Aurora line always struggled with noise and thermals. Some smart redesigns in the Aurora R15 help it run much cooler and quieter while keeping Alienware's signature design language intact.
You have a ton of flexibility in how you configure the machine, too. You can pick it up with an RTX 3050 or AMD RX 6500 XT if you want to run most games at 1080p, or you can scale all the way up to an RTX 4090 for the highest-end gaming experience money can buy. Alienware pairs the GPU with a 13th-gen Intel CPU, as well.
Although servicing is easy thanks to a toolless case design, it's not always practical. Alienware uses some proprietary components, such as the motherboard design, that keep DIY upgrades at bay. You can still get into the machine and upgrade your RAM, storage, and GPU, though, giving this machine a bit longer shelf life.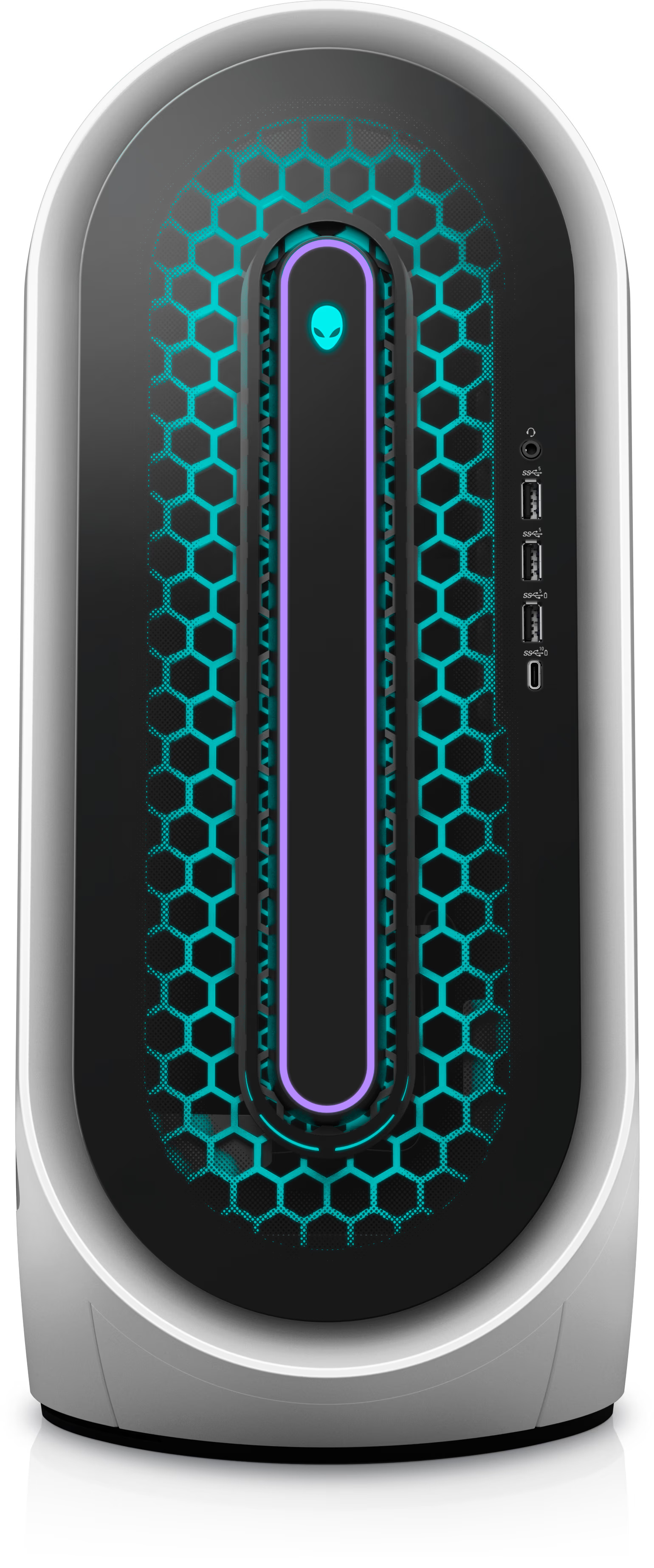 Alienware Aurora R15
The best gaming PC with water cooling
Acer Predator Orion 7000
The best high-end gaming PC
Pros
Runs cool and quiet
Bright, vibrant RGB lighting
Excellent 4K gaming performance
Great connectivity options
Hot-swappable SSD bay
Cons
Expensive
Upgrades could be frustrating
Loads of bloatware
Why you should buy this: It's a fantastic and upgradeable high-end desktop that will hold up for years.
Who's it for: Enthusiasts that want a great starting point to upgrade their gaming PC in the future.
What we thought of the Acer Predator Orion 7000:
The Acer Predator Orion 7000 is a gaming PC in every sense of the phrase. Its design screams that with bright RGB fans and an aggressive design that makes it clear this is a machine built for gaming. Thankfully, it has the performance and thermals to back up its clear design influence.
It packs last-gen components, but they're still powerful. You can score up to an Intel Core i9-12900K and RTX 3090 graphics card, and we expect a next-gen upgrade soon. Acer just recently updated its Predator laptops, so a desktop makeover should come soon.
Even this model holds up well in 2023, though. The components are still very powerful, and the design of the case makes quick work of all the heat these high-end components can spit out.
Acer Predator Orion 7000
The best high-end gaming PC
Intel NUC 12 Enthusiast
The best mini gaming PC
Pros
Excellent 1080p gaming performance
Laptop CPU matches desktop performance
Small and relatively quiet
Fantastic connectivity
Cons
Expensive
Large, clunky power brick
Why you should buy this: It's smaller than a book and comes with enough power to run the latest games at 1080p.
Who's it for: Gamers who need a tiny PC that packs a lot of punch.
What we thought of the Intel NUC 12 Enthusiast:
Intel's NUC PCs have always been focused on performance in the smallest size possible, but the NUC 12 Enthusiast reaches even further. Powered by mobile Intel Arc Alchemist graphics, the machine can run the latest games at 1080p, and it's smaller than the size of a book.
It's not a stretch to say that the NUC 12 Enthusiast makes you forget you're using a mini PC. It puts up desktop-like performance in a package smaller than some laptops, and it comes with all the trimmings you'd expect out of a full-size rig. That includes expansive connections, including USB-C, Thunderbolt, and plenty of USB 3 ports.
The included stand is great, too. You can sit the NUC 12 Enthusiast upright on your desktop, but you can also pop it off the stand and lay it down on its side. And if you're looking to maximize space, you can even mount the stand to a wall and hide the PC behind your monitor.
Intel NUC 12 Enthusiast
The best mini gaming PC
Falcon Northwest Tiki
The best gaming PC for the living room
Pros
Blazing 4K gaming performance
Fantastic thermal design
Top-notch build quality
Accessible upgrades
Standard three-year warranty
Limited fan noise
Cons
Limited Intel configurations
Why you should buy this: It's smaller than a gaming console and packs high-end PC hardware.
Who's it for: Living room gamers looking for a high-end gaming PC that doesn't take up a lot of space.
What we thought of the Falcon Northwest Tiki:
The Falcon Northwest Tiki is the perfect small-form-factor gaming PC. Just like the Talon, the Tiki stands out with exceptional build quality, clear attention to detail, and support that puts major PC manufacturers to shame. It's expensive, but Falcon Northwest makes every penny feel worth it.
For size, the Tiki is the smallest gaming PC you can buy fully configured. But Falcon Northwest doesn't sacrifice performance in the process. You can cram in up to a 16-core Ryzen 9 5950X as well as a full, fat RTX 3090. You can also add up to 8TB of NVMe storage, which is insane considering the Tiki's size.
Usually, a smaller size comes at the cost of thermals and noise, but not with the Tiki. It manages to stay cooler and quieter than many mid-sized desktops (read our Asus ProArt PD5 review for an example of bad thermals on a desktop).
Falcon Northwest is one of the few boutique PC builders left, and the Tiki is a perfect showcase for what that model can achieve. It's an exception PC overall, and it's even more impressive considering it's smaller than a PlayStation 5.
Falcon Northwest Tiki
The best gaming PC for the living room
Dell XPS Desktop (8950)
The gaming PC for remote workers
Pros
Sleek, minimalist design
Highly configurable
12th-gen Intel and Nvidia RTX 30-series options
Inexpensive
A few options for upgrades
Cons
A bit loud
Pricey upgrades
Why you should buy this: The Dell XPS Desktop 8950 doesn't look like a gaming PC, but it comes with the right hardware to run the latest titles.
Who's it for: Remote workers that need a professional PC during the day and a gaming PC at night.
What we thought of the Dell XPS Desktop 8950:
If you want to pick up a gaming desktop but you're not interested in learning about upgrading or tricking it out with RGB, the Dell XPS 8950 Desktop is a great option. It's a stealth gaming PC, looking like an office desktop on the outside but hiding some of the most powerful components you can buy inside.
You can't upgrade major components in the Dell XPS Desktop, which is almost always a downside. But you can at least trick out this PC with up to an Intel Core i9-12900 and Nvidia RTX 3080 Ti for about $1,000 less than the competition. You can even configure it with liquid cooling.
Configurations start as low as $750, with the first configuration with a discrete graphics card coming in at around $1,100. You're giving up all of the trimmings that make a gaming PC look like one, but if you're content to recycle your PC and upgrade a few years down the line, that's not a big deal.
Although the XPS Desktop can fit into any office setting, we're recommending it specifically for remote workers. You might not want to ask your boss to bill an RGB-ridden gaming behemoth; the XPS Desktop is much more reasonable, and it still has enough muscle for gaming after hours.
It's the best option right now, but the newer Dell XPS Dektop 8960 includes next-gen components if you want a little more grunt while playing games. These new models are much more expensive, however.
Dell XPS Desktop (8950)
The gaming PC for remote workers
NZXT Streaming Plus BLD Kit
The best DIY gaming desktop
Pros
Powerful
Inexpensive
Includes all the tools you need to build your own PC
Cons
PC building isn't for everyone
Limited customization options
Why we chose this: The NZXT BLD Kit allows you to dip your toes into building a custom gaming PC and save some money in the process.
Who's it for: Hobbyists who want to get into building PCs but don't know where to start.
What we thought of the NZXT BLD Kit:
NZXT has a different approach to gaming desktops. Instead of shipping you a prebuilt machine, you get all of the components, tools, and an instruction manual to build the PC yourself. And don't worry - you get all of that at a discount compared to getting a machine already built for you.
The BLD kits offer great value, and NZXT has several available. We're recommending the Streaming Plus kit, which comes fitted with an eight-core Ryzen 7 5700X processor, an Nvidia RTX 3070 graphics card, and 16GB of RAM. Overall, the kit is about $200 than shopping for the cheapest parts yourself, rather than the anywhere from $500 to $1,000 that brands usually charge as a building fee.
If you can't be bothered, NZXT also offers its custom BLD program. Unlike most system builders, NZXT charges a flat $110 building fee. Otherwise, you're paying the exact same price for the components that you would if you bought them individually.
PC building isn't for everyone, but NZXT's BLD program offers a cost-effective and simple way to get into the hobby.
NZXT Streaming Plus BLD Kit
The best DIY gaming desktop
MSI Aegis RS 12
The best gaming PC for beginners
Pros
Cheaper than building yourself
All MSI components
Dense, bright RGB lighting
Excellent gaming and processor performance
Fantastic connectivity and expansion options
Cons
Poor cable management
Twist ties used for some cables
Case isn't the best
Why we chose this: It's a no-fuss, powerful gaming PC that won't break the bank.
Who's it for: PC gamers who want a powerful PC and don't need to mess around with upgrades.
What we thought of the MSI Aegis RS 12:
The MSI Aegis RS 12 is a perfect gaming PC if you don't need to mess with upgrades. You can upgrade it, but its poor cable management and lack of a case don't lend themselves well to DIY tweaks. Thankfully, you don't need to make them. There's a lot of power under the hood of the Aegis, and at a reasonable price.
The last time we looked at the machine, it was sporting Intel's 12th-gen processors, but MSI has recently updated it with Intel 13th-gen CPUs and Nvidia RTX 40-series GPUs. You can pack in up to an Intel Core i7-13700KF and Nvidia RTX 4080, along with 32GB of RAM.
What's surprising is the price. That configuration could easily run $4,000 or more with other brands, but MSI charges around $3,000 - near the same price as building your own. If you jump down to an RTX 4070 Ti, you can save almost $1,000, too.
On top of that, MSI includes a sold gaming keyboard and mouse in the box. They aren't top-tier peripherals, but they're more than enough to get beginners started with PC gaming.
MSI Aegis RS 12
The best gaming PC for beginners
Frequently Asked Questions
PC versus laptop for gaming
While you can play on the go with a gaming laptop outfitted with a discrete graphics card, a gaming desktop will deliver more flexibility, power, and performance for serious gamers. With more space inside a desktop tower, thermal management is generally better, which leads to stronger graphics and processing performance without the fear of throttling.
Another benefit of going with a desktop is that there is more space to perform upgrades in the future, so you can add more memory or storage, swap out your graphics card, and upgrade your motherboard and processor down the road. When shopping for a gaming desktop, you should look for key features like upgradability, expandability, and support for the latest protocols, like Thunderbolt 3, which could help extend the life of your investment.
What's the best gaming PC for beginners?
The best gaming PC for beginners is the HP Omen 30L or 45L. These two machines live in the same family, and the 30L is slightly smaller than the 45L. We recommend them for beginners because they come with the latest, most powerful components, they're readily available, and they're easy to upgrade.
For configurations, you want to pay attention to the GPU and CPU. For beginners, we recommend the Nvidia RTX 3060 for 1080p gameplay, paired with either an AMD Ryzen 5 5600X or Intel Core i5-12600K.
Gamers will also want to have enough RAM — we suggest at least 16GB of memory — and fast storage. Moreover, taking the dual-drive route means you don't need to invest in an expensive solid-state drive with large storage. This allows you to pair a more modest-capacity SSD with a larger hard drive to store all the large media libraries for your game.
Can gaming PCs be used for work?
Most definitely. Manufacturers like HP recognize that gamers don't just play games — office workers want to stay entertained during their downtime, too. All that's needed to play games is a capable processor, a strong enough discrete graphics card, and enough memory to keep the entire system running smoothly.
If you're looking to save money by using one desktop for gaming and for your productivity tasks, you'll want to choose a PC or one of the best laptops with more understated aesthetics that will blend in better with your office decor. Once you have the right PC selected, just pick out a few games and have fun.
Is PC gaming dying?
Absolutely not. With sales of general-purpose desktops stagnating in recent years, manufacturers like HP and Lenovo are investing more resources into their gaming brands to fuel growth.
With new hardware features supported on gaming PCs — from VR and augmented reality to real-time ray tracing — developers will have plenty of new technologies to leverage in order to tell visually engaging stories through their games.
Editors' Recommendations